CLBR # 208 Rebekah Heacock Jones on Berkman Center's Internet Monitor
Wed at 10AM PT/ 1PM ET on WebmasterRadio.fm
Play in new window | Download (51.0MB)
Meet Rebekah
In announcing the the launch of the Internet Monitor dashboard, Harvard's Berkman Center for Internet and Society explained it is
a freely accessible tool that aims to improve information for policymakers, researchers, advocates, and user communities working to shape the future of the Internet by helping them understand trends in Internet health and activity through data analysis and visualization. . . .

The dashboard lets users customize a collection of data visualization widgets—some offering real-time data—about Internet access and infrastructure, online content controls, and digital activity. Users can create multiple collections that enable easy comparisons across countries and data sources, and are quick to configure, edit, and share. In addition to creating their own collections, visitors to the dashboard will be able to view a selection of featured collections based on topics such as online media and network traffic around the world.
---
 New Updates
The Federal Trade Commission has announced the agenda for its January 14th PrivacyCon, which it describes as a conference to bring together a diverse group of stakeholders, including whitehat researchers, academics, industry representatives, consumer advocates, and government regulators, to discuss the latest research and trends related to consumer privacy and data security. The FTC called for research to be presented at the conference.
When President Obama signed the $1.1 trillion Consolidated Appropriations Act, 2016 into law, it contained a number of substantive amendments including the Cybersecurity Information Sharing Act.
Droner files suit for declaration that he was not trespassing and for damages for $1,500 for destruction of drone.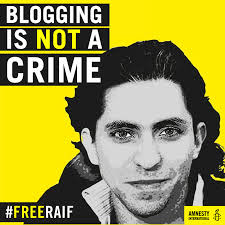 Blogger Raif Badawi was sentenced to 10 years in prison and 1,000 lashes for "insulting Islam through electronic channels".  He received the first 50 lashes on January 9, 2015, with further lashes repeatedly postponed.  In December he went on a hunger strike after being transferred him to a new, isolated prison.
MEXICO – MORE VIOLENCE
GOP Contenders and Mexico: Amateur Hour at the Rio Grande
Murder of Mexican Mayor Highlights Culture of Impunity
 Just a few days before the 5th anniversary of the Gabby Giffords shooting, the NRA tweets an ad "targeting" two Congresswomen introducing gun legislation using bullets in the ad.